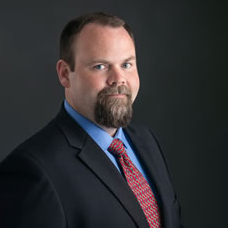 JARVIS 'JAY' MOORE, P.G.
Chief Geoscientist
ABOUT JAY
Jarvis serves as Chief Geoscientist for Black Mountain Oil and Gas. Mr.
Moore has over 24 years of diversified Geological experience in the upstream Oil and Gas industry including positions with companies such as XTO Energy, Clearfork Resources, and Encore Acquisitions Company. His experience includes prospect generation, planning, and drilling oversight of hundreds of vertical and horizontal wellbores in both conventional and unconventional plays (Wolfcamp, Bone Spring, Barnett Shale, Haynesville, Cotton Valley and more)
Mr. Moore is a licensed Professional Geoscientist in the state of Texas and a SIPES Certified Earth Scientist. He holds a Bachelor of Science in Geology from Georgia Southern University and a Master of Science in Geology from Texas Christian University.
In addition to being a past-president and current member of the Fort Worth Geological Society, he is an active member of both the American Association of Petroleum Geologists (AAPG) and the Society of Independent Professional Earth Scientists (SIPES).